Welcome back to Canal Boat UK. Today I would like to address the subject of the narrowboat gangplank…. why you might need one and the best options for getting one. Whether you are looking for the 'Rolls-Royce" of gangplanks or cheap DIY options, we will discuss all here 🙂 If you have been wanting to get a gangplank for your narrowboat, please read on…
What is a Gangplank?
I suppose the type of gangplank that everyone thinks of when the subject arises would be the cruise ship gangplanks, like the one pictured below.
In reality, gangplanks come in all shapes and sizes depending on the type of boat they are used on. A gangplank is simply a walkway or access point that will help you easily get on or off a boat from land.
If you want a more precise definition, Dictionary.com state….
a flat plank or small, movable, bridgelike structure for use by persons boarding or leaving a ship at a pier.

Dictionary.com
Why Do You Need a Gangplank on a Narrowboat?
Now that you know what a gangplank is, the next question is why would you need one on a narrowboat? That's a good question, as some may think that it is already very easy to get on and off a narrowboat when moored up.
To be honest, most people only need a gangplank on a narrowboat if they are continuous cruising on the canal network, as you would usually have easy access to your boat when in a marina.
When you moor up, not every mooring point is the same. Sometimes, the ground level differs from the boat deck level. To avoid accidents, a gangplank would be useful to make it easier to get on and off the boat in this situation.
Another major reason to get a gangplank is if you have small pets on your boat and want them to get on and off the boat. Some small pets might struggle to bridge even a small gap from the boat to the canal side, so a gangplank would encourage them to get on and off the boat more easily.
If your pet is scared of using a gangplank, you might want to let them practice with it placed on the ground first. This will help them get the idea to walk on it, then you can slowly start raising the height.
Where to Store a Gangplank on a Narrowboat?
Narrowboats are small in nature, and most narrowboaters don't have excess space to keep a gangplank in. The best way to store a gangplank for most is to keep it on the roof of your narrowboat. To make this easier, most buy foldable or telescopic gangplanks.
Best Options for Narrowboat Gangplanks
In this section, I will be showing some gangplank examples from Amazon. If you want to view the product for yourself over there, simply click on the image.
Scaffolding Planks
Some narrowboaters swear by the use of scaffolding planks as gangplanks. The usual idea is to find them thrown away in building site skips and the like, but you can buy them online if the fancy takes you. The best place to find them is on Ebay, where they often sell used wooden scaffold boards for around £10.
The problem with these scaffolding planks is they are almost always wooden and therefore can't be folded for storage purposes. Also, they don't usually have much in the way of non-slip properties, so may be trickier to walk on in the Winter.
Most people that go this route will sand them down and add some primer and several coats of marine paint to make it last longer and look nice. Maybe you can match the colour with your narrowboat 🙂
Ramps
Another good option for gangplanks would be to use ramps designed for different purposes. On Amazon, you can find all kinds of ramps for everything from motorbikes to lawnmowers. These also make great gangplanks and are made out of hard-wearing metal. Just be sure to get one that is made out of a material that isn't prone to rust, such as aluminium. Also choose a material that is light and therefore easy to move around.
I found an excellent example on Amazon below of a foldable ATV ramp that could work for narrowboats….
If you can find one that has non-slip properties too, you pretty much have the perfect gangplank!!
Custom Made Gangplanks
Believe or not, there are companies out there that are making gangplanks especially for narrowboats. One such company is Miracle Leisure Products, who make a specialised gangplank they call a rescue ladder.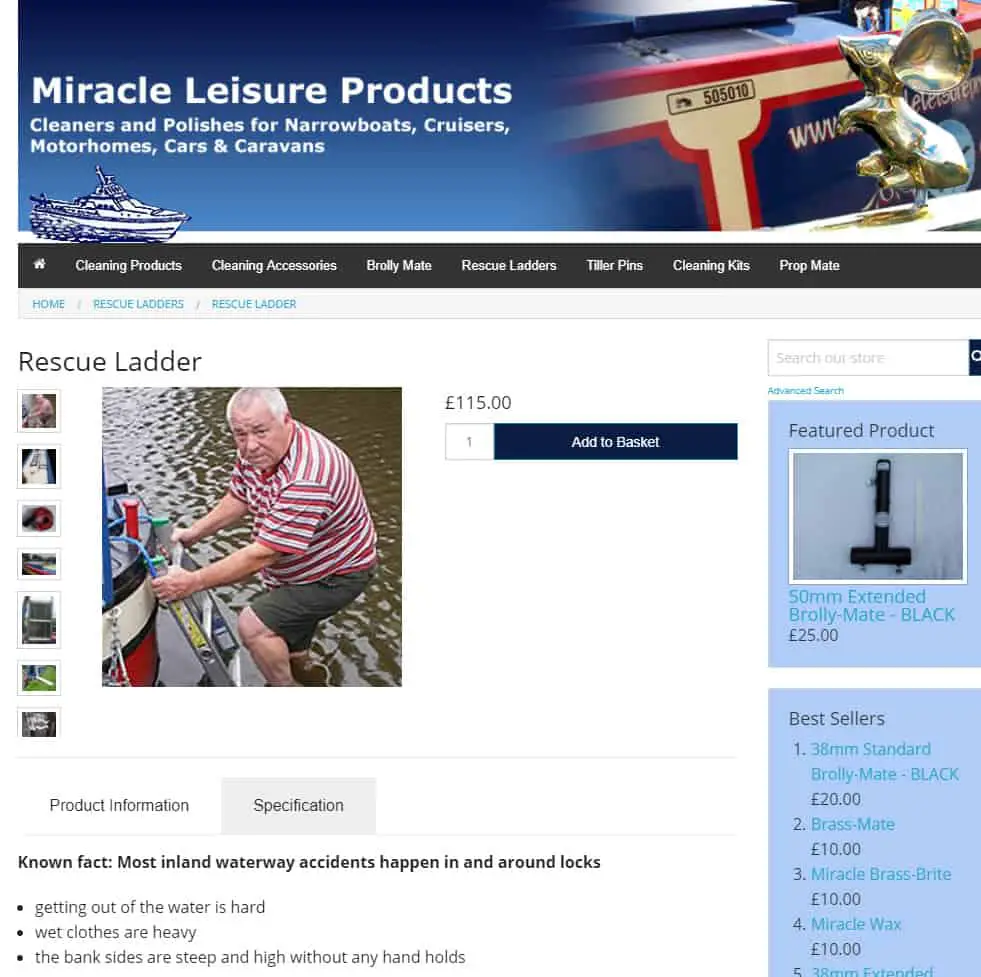 The beauty of this gangplank is that it also doubles as a rescue ladder, for if you fall into the canal or a lock with deep water. There are metal plates for the gangplank that can be unclipped if you need to use it as a rescue ladder. The video below will show it in action.
If you are feeling adventurous you could make your own version of this, by attaching plywood or aluminium plates to the back of a regular short ladder. Although the Miracle Leisure Products one does look well made, although it is one of the most expensive options here.
Although if you want to see the most overpriced gangplank of them all, I found the one below on Amazon for around £1000!!
So if you want a gangplank that makes you feel like the Duke of Windsor, or you have more money than sense, maybe you should buy this one 🙂
Seriously though, if you have found the perfect gangplank please let us know all about it in the comments section below…