Here at Canal Boat UK the whole aim is to be the encyclopedia of narrowboating, and offer those little tit-bits of advice that everyone on the canal needs 🙂 We are a ways away from getting anywhere near this goal, but we will try! Advice is important, but there's another reason people love to search on the internet for narrowboating stuff! They love to find out about the epic journeys that other boaters are taking. Some may be reading from their narrowboat saloons, trying to find the next epic journey to take. Whereas others not so lucky to be on the water can get their fix through the photos and musings of others.
Whatever the reason, we want to point you in the direction of some of the best narrowboat blogs we can find. There's nothing better than finding a real narrowboater blogging simply for the love of boating! There are some real 'old school' examples here, some even still using the Blogger platform from the early 2000's 🙂 But if you can look past all of that, you will find some of the most authentic content around!
If you are more interested in narrow boat VLOGs (i.e YouTube), I have another article on that too!!
Throughout this article, simply click the titles to be taken to the blogs for further perusal 🙂
This is exactly the type of blog I was talking about when I said 'old school'. This blog is totally one of those, but provides some of the most regular and lengthy narrowboat blogging out there (pictures and all). I have to say I am impressed at Quaysider's (that's his username over on Blogger) commitment here. Starting with a bang in 2016 with 123 posts, and still getting 72 done in 2019. Unlike a lot of bloggers, Quaysider doesn't seem to give up. This is good for blog readers like us.
The cool thing about this is that Narrowboat Ellis now provides live-aboard narrowboat experiences, offering people a taste of narrowboat life for a pretty reasonable fee.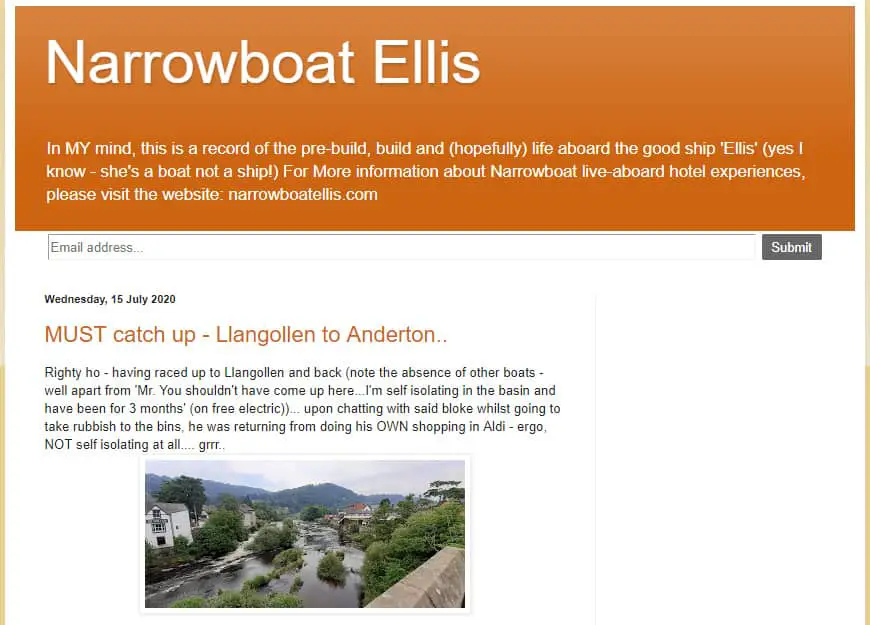 If you are not such a reader, this blog might suit you better. They do break out the text blocks from time to time, but more often than not they provide picture heavy updates of their journey and narrowboat goings on! And if you think Narrowboat Ellis was consistent, this is another level up. Briar Rose began blogging in 2011, and have managed at least 77 blog posts a year ever since, hitting a high of 145 in 2013. These are people you can rely on for your canal boat fix 🙂 Just prepare your eyes for the colour green is all I will say 🙂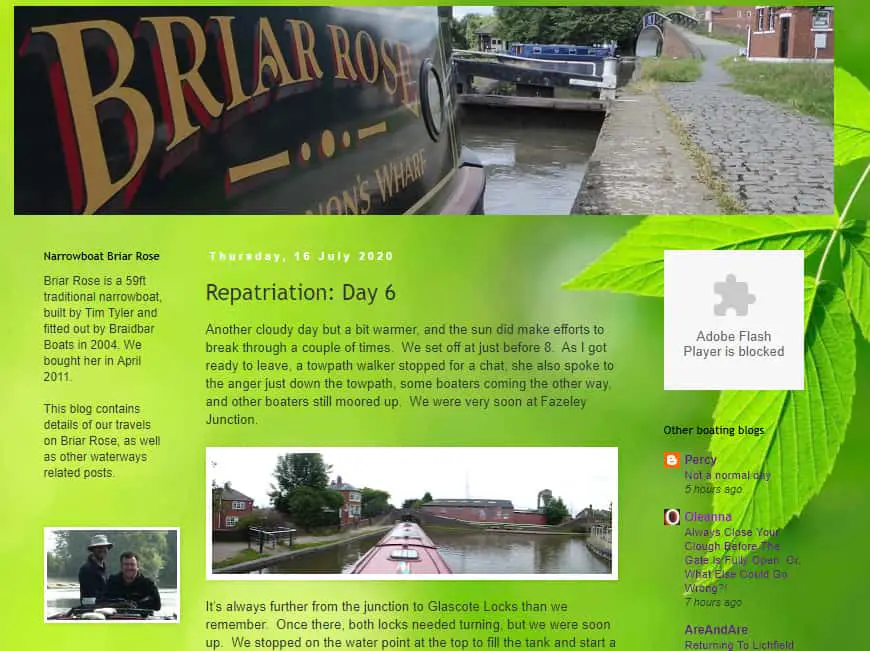 If your eyes simply can't take the assault that is early stage Blogger platform (seen above), then you may enjoy reading Living Narrow. They seem to have gotten the hang of producing a modern website that is pretty easy on the eyes.
What I like about Living Narrow is the quality of the writing and the stories told within. However, be aware of two things that some might not love as much. These are text heavy blog posts, with just the odd picture here and there. Also, Living Narrow aren't exactly blog machines (like what we saw above). Hiatuses of several months between posts is something of the norm here. At the time of writing it has been around 5 months since the last post. Although the writing is that good that it is worthwhile just to read their bank of old posts.
I am crossing my fingers they will come back 🙂 The whole reason I went for a more informational based blog myself is because my writing style is more GCSE English than Shakespeare standard :). Something that is confirmed from the quality of writing on show here!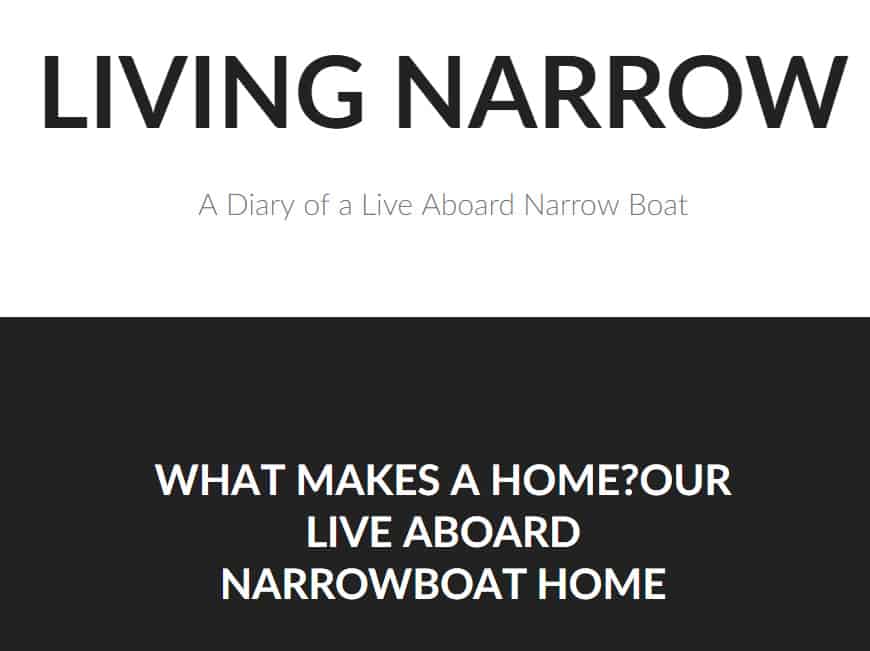 It's back to the early 2000's design of Blogger we go for this one, but it's worth it. Harnser's Travels is the most regular poster of content of everyone featured so far. And this isn't low quality content either! If we are lucky we get almost daily updates. Yes, the text is often short, but is accompanied by some really interesting photos and occasionally even maps of their journeys. You get a real sense of where they have been and what they have passed on the canal, which is great. If you like narrowboat journey logs and updates, this is the blog for you.
They have been blogging since 2008, hitting at least 101 posts a year ever since! Impressive stuff!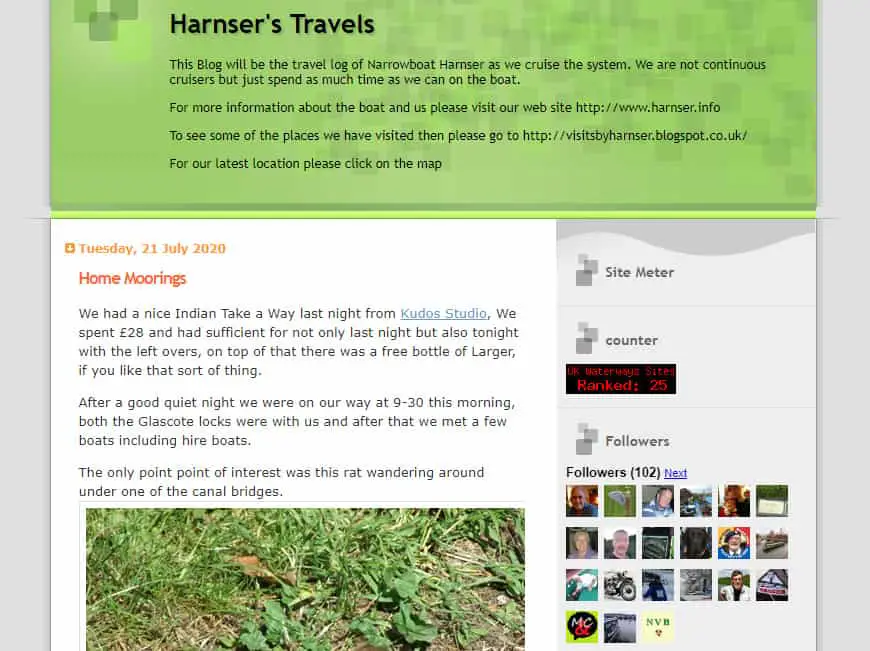 If you like combining bird watching and narrowboats, this blog would be one you would enjoy. Actually, I would go further than that and say that if you are interested in nature in general, you will see a lot of that here. Butterflies and bees make regular appearances 🙂 The other highlight is the amount and quality of photos within each blog post. They really don't miss out any details on their journeys along the canal, great for those of us trying to follow along. These photos are high quality and well presented too, even though they are housed on one of the 'old school' blogging platforms!
This blog is also a very consistently content heavy one. They started in 2008 and regularly post over 200 posts a year, even 300 some years. This truly is impressive stuff!
This narrowboat blog is simply awesome if you have any interest at all in UK canal history. I don't know how they get so many canal related old photos, but seeing canal history laid out like this is a real treat. The blogger behind all this (Andy) even has posts delving into the lost canals of the British Canal Network. It is a true pleasure to have access to someone which such a rich history and knowledge base with narrowboats and canals. I highly recommend spending hours trawling through the masses of old posts on this blog, it's a history degree in itself 🙂
This blog is back to the more traditional style narrowboat journey logs. Regular updates on where they have been on their boat, photos and all. The thing that is great about this blog is they are using a fairly modern blogging platform, so the look and feel of the blog is much more modern (funnily enough!). This makes it a very pleasurable and easy to read affair. I have certainly enjoyed many an hour spent perusing their content 🙂 They have been around since 2008 too (through their first blog), so they can be relied on for regular updates!
Well, there you have it. The narrowboat blogs I enjoy frequenting on a regular basis. If you have blogs you would like to suggest, please leave a comment in the comments section below. I am always looking for new blogs to peruse.
Although I will say that my blog reading time has been getting less in recent years, mainly down to the growing nature of YouTube and Vlogs (video logs to the unaware). I will do an article on my favourite YouTube channels in due course, I just need to find the time first 🙂