Welcome back to Canal Boat UK, today we are going to talk about the idea of retiring on a narrowboat. Is it possible? Is it a good idea? These are the type of questions we hope to address today. Over the past five or so years I feel that the idea of narrowboating has been trending strongly, mainly thanks to our more online world. Go look at the number of new narrowboating YouTube channels, for example, and it is clear to me that this hobby is growing in popularity. More now than ever, there will be people considering narrowboats for their retirement. This is why I chose to look into this topic more.
What Attracts People To Narrowboating?
As I stated above, narrowboating is growing in popularity. Or at least this popularity is now more visible on social media and Youtube. Looking at Google Trends, narrowboating in the UK is threatening to hit 100 in 'trend level'. Quite remarkable, really.
But why all this interest in narrowboating? What's the fuss? These are the reasons why I think the trend is surging…..
Cost of Living
As we are Canal Boat UK, we like to talk most about the UK (funnily enough). The cost of living here is somewhat expensive, especially when you add on the amount of tax and council tax we pay too. I feel this is a major reason why narrowboating has become popular. Living in a caravan or mobile home seems so depressing (to me anyway) when you compare with the tranquillity and beauty of living on a narrowboat. As far as cheap living options go, this seems to be the best one for the UK.
Thanks to the Bank of England, I can see how some typical products have increased in price since 2010. You can see that a lot of items have increased considerably more than the rate of inflation, certainly much more than most people's wage inflation. So for most people, the UK is feeling more and more expensive as the years go by. Click on the image to go view the full details over at the Bank of England's official website.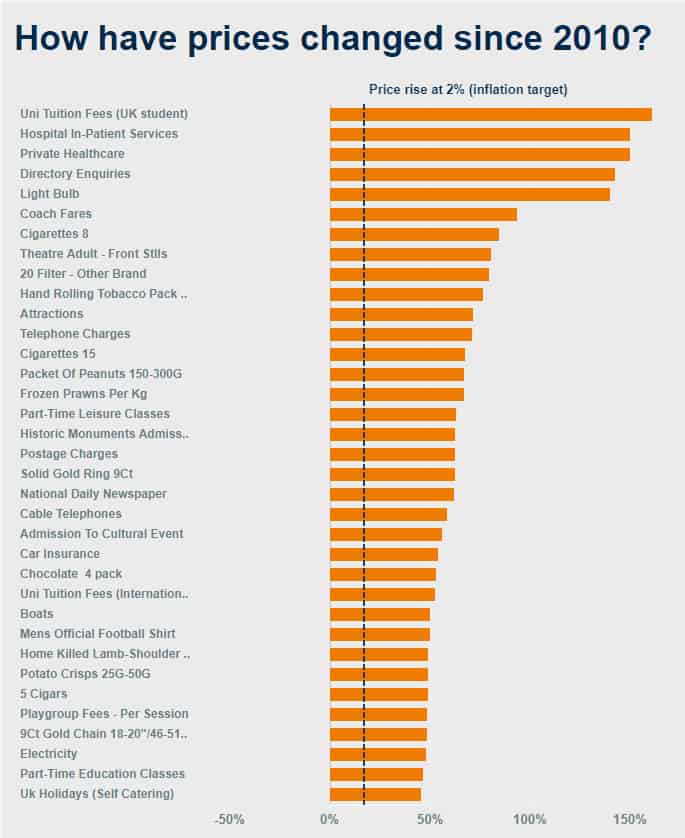 These claims are backed up by THIS article in the Guardian from 2019, talking about how some households are suffering worse than in the 1990's recession.
Nomad Lifestyle
We have seen the rise of the nomad lifestyle in America, mainly driven by the idea of van life (living in a van full time) or tiny house living. I have enjoyed watching an increasing number of YouTube videos in recent years of Americans living off grid for literally peanuts and going for a more nomadic lifestyle. In a modern world where it is possible to earn a living online or remotely, there is an increasing group of people that want to live in this way. Narrowboating is the UK's perfect alternative to van life.
Explore the Countryside
The UK is a rather small place with not much countryside. And every inch of the UK has been cultivated by humans. There is very little rugged natural beauty or wilderness like you see in some other bigger countries. However, it always amazes me how you feel when you are on the canals. For most of the time, you really do feel like you are living in nature. Waking up to the birds and watching duck families swimming by. For such a small and densely populated country, this feels like one of the only ways to really feel in nature.
Brexit
Maybe this one is going out on a limb a tad, but I feel that with all this Brexit upheaval more people are choosing the narrowboat life. With our ability to live in Europe freely under threat, it seems, the option to live in a house in France has more barriers to entry now. So why not go live on a narrowboat instead! With the pound looking more fragile in a post Brexit world, our buying power as a country seems less. This could just be a temporary thing, but in the meantime more Brits are staying at home to holiday and live. This is also feeding into this growing narrowboat interest.
Is Narrowboating Good for Retirement?
So we have looked into why people in general are becoming more interested in narrowboating, but how does this relate to retirees? Is narrowboating a good choice for retirees? Lets look at some pro's and con's.
Pros
Cheaper – Clearly, living on a narrowboat is much cheaper than living in a regular house. Many Brits get to retirement age and find they don't have a decent pension or savings to give them the lifestyle they want on dry land. This makes narrowboating a much more attractive option. This article from The Sun demonstrates well how this could work for retirees. It talks about Helen, a retired grandmother who was able to save £100,000 by living on a narrowboat. They quoted her as saying that her yearly costs are £3500, meaning even the poorest retirees can live a good live on a narrowboat 🙂 And you can see from the article that her standard of living seems great.
Bear in mind, though, that residential moorings can be quite expensive, especially in the south of England or in big cities. However, the beauty of being retired is that you should have much more flexibility to live somewhere that is cheaper. You don't have tyes to a job, for example, so your location should be more flexible if costs dictate. I would imagine that Helen from the article above is continuous cruising, meaning she moves around the canal network most of the year.
Increasing Friendship Circle – The narrowboat community is a truly amazing one. As a retiree you will be able to meet many new like-minded people, increasing your circle of friends no end. This is not always easy to do when you are retired.
Perfect for the Active and Adventurous – I am sure there are many people that are happy to retire in a cottage in the country, but I am sure that there are many more that can't stand the thought. If you want an active and adventurous retirement, then narrowboating is the perfect fit for you. Working locks is the perfect way to stay fit, and you will have the excitement of being able to go wherever you want on the canal network if the need arises.
Cons
Mobility – A narrowboat is quite a tight and confined space to live in, so if you have any serious mobility issues this could be tough for you. There are ways to improve access to your narrowboat, such as having a nice big open cruiser stern decking at the back, but narrowboating inherently requires a decent amount of mobility. If you are simply old and worried that your frail body can't handle dealing with lock gates, I would strongly recommend you go and watch the wonderful Great Canal Journeys series by Channel 4. Prunella Scales and husband Timothy West are well into retirement when they do these narrowboat journeys, so this will give you a great idea what to expect 🙂 At the very least it will provide some great inspiration!
Family Support– If you are planning to continuous cruise, or if your family live somewhere that has expensive moorings (such as London), you may find that the narrowboat life makes it hard for you to stay in regular contact with your family. Especially if you are constantly moving around the canal network, you will probably find that a lot of family members will struggle to meet up with you regularly. Whether this is a big deal to you very much depends on your family setup, but it is definitely something to consider.
Also, if you are continuous cruising, you are further away from the support network of your family if you have an accident such as a fall.
Any Tips for Retired People Wanting to Live on a Narrowboat?
You bet we have tips 🙂
Think About Heating
Far too many retired narrowboaters end up going back to dry land because they find the British winters too harsh in them. If you want to be serious about retiring in a narrowboat, make sure to research and fit out your boat with the best possible heating systems. This will mean that you will have the best Winter's ever! One less problem to deal with!
Be Creative
As a retiree, you can think of some creative ways to live your life. For example, if you have a bit of money behind you then buying a piece of land with moorings on it would be perfect. You could live on one, and renting out the others could be a great way to support your retirement income. Maybe you have always had a passion for art, you could earn income by being a travelling artist. I have seen many narrowboaters earning a living this way.
Make Sure You want This!
Before you jump into narrowboat life with both feet, make sure to go rent a narrowboat and take a holiday in one for a few weeks. This is the only way you will find out if this is the life for you. Be aware that often the price of houses goes up more than the price of any boat that you own. Therefore, if you sell up everything to live in a boat, you will probably find that the cost of buying back into a house at a later date is considerably more. Bear this in mind and be sure about your decision.
Practice Operating Locks Alone
If you are a single retiree, you are doing this anyway! But even couples should practise operating locks on their own on a regular basis. Then if there is an emergency and only one of you is fit enough to cruise, you will be comfortable doing this already. You never know what might happen, so be prepared 🙂
Be Careful Where you Moor Up!
It's a sad state of affairs but unfortunately some parts of the UK have somewhat of a yob problem, mainly with gangs or small groups of rather annoying teenagers 🙂 So, if you do decide to take a plunge into narrowboating, make sure to moor up somewhere nice and quiet. Check on narrowboating forums to make sure that the area you are thinking of mooring up in is relatively yob free :)I have heard of horror stories of kids releasing people's boats from canal side moorings at night, and they find themselves floating down the canal.
Do Some Research
Find some canalboat/ narrowboat forums and Facebook groups to join and ask the members any burning questions that you have. As I said earlier, the narrowboating community really are a great bunch, so you will feel most welcome 🙂
Buy a Trolley
One of the big problems for retirees on narrowboats is the idea of carrying heavy weights. Although thesedays, there are many types of trolleys you can buy to relieve this issue. Below is just one example you can find on Amazon, click the image to go view it over there.
Just make sure to buy something with wheels big enough to handle a little light off roading. Some canal paths are not the best!
Happy Retirement!
Whatever you decide to do, I wish you the best retirement! You have worked a hard life, now you can put your feet up and live life how you want to. Narrowboating is becoming a liberating choice for many retirees, rest assured you won't be alone if you do choose this way of life!
If you are a retiree in a narrowboat, we would love to hear how it is going for you! Leave a comment below about your experiences so far.