Here we are with another private sales review. It only took me half a year to get another one out! Well, you know how it is! You have a great idea then don't have the time to follow through. Hopefully, someone out there finds these posts helpful. This is a seller's market, what with narrowboat prices going pretty crazy. I want to make sure my readers have some idea what to look for.
Boat 1: 36ft Narrow boat for Sale

Good Points About this Listing
Boat Looks Clean
From what I can tell, this narrowboat looks like a Springer boat (or something similar). For a boat of this age, I was surprised to see that the interior actually seems pretty clean and decent. I see a lot of older boats that have dusty crevices all over the place 🙂 This boat does have a little of that, but for the age looks pretty solid.
In more general terms, the interior looks well put together for its age. As well as being clean, it also has a nice country cottage feel. Someone has done a good refit and takes a reasonable amount of pride in their boat. This is a good sign.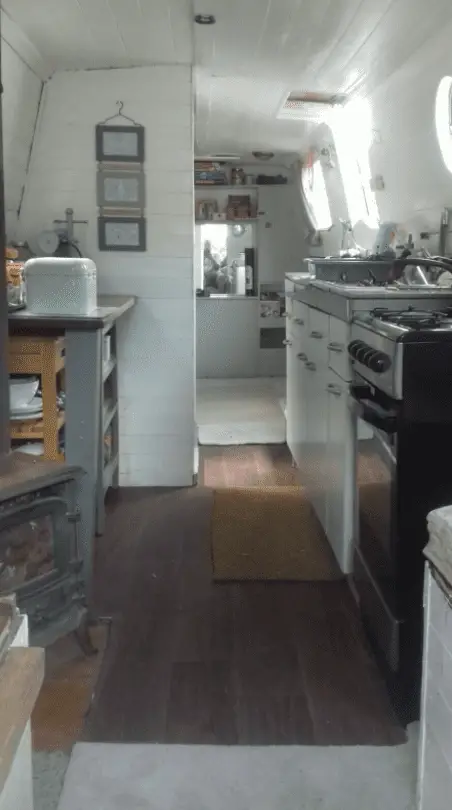 Quality Bathroom
I have seen a lot of older boats with frankly disgusting bathrooms 🙂 This boat is an exception, and when I read the description, I know why. They have done a recent re-fit of the bathroom. I want to feel good when I am sat on the toilet, so a good bathroom is a priority for me. If it for you too, this boat might work for you 🙂
Bad Points About this Listing
Lack of Details
I have to say I am amazed the amount of people that list narrowboats on Ebay for thousands of pounds and yet put the most basic information in the product listing. This one is not the worst I have even seen, but it is still pretty bad.
No information about the year and model of the boat, the engine or anything that is important when buying a boat. Some hint at a survey done in the past, but no solid details. The hull and the engine are the things that will end up costing you the earth, not the interior fit-out. So if you are interested in this boat make sure to ask the seller. And if they seem unwilling to offer it up, run a mile.
Re-Plated
This boat has been recently re-plated, and it is good to see the seller mentioning this openly. This was obviously done when some holes or structural problems were seen in a hull survey. The question now is how well was this work done? If done well, this might not be such a big deal. The problem is, it can be hard to tell with a boat sat in the water. This boat would need a survey before I went near it.
You can check out this boat over at Ebay yourself by clicking HERE.
Boat 2: 1990 25ft Traditional Narrowboat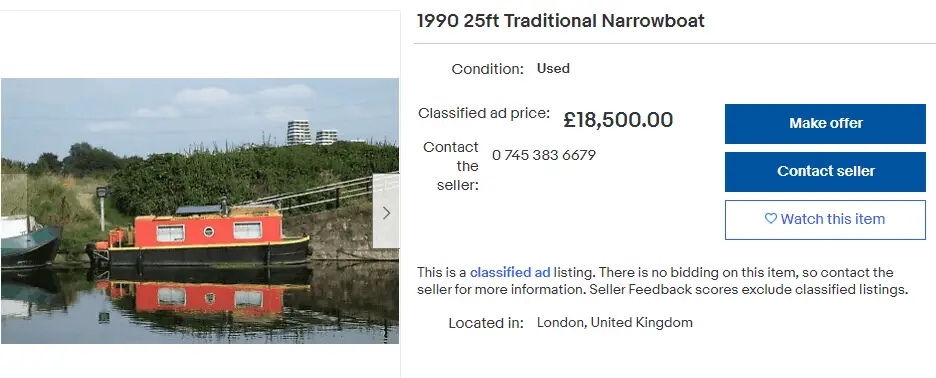 Good Points About This Listing
Well Fitted Interior
I don't know what is going on today, but this boat is following a similar route as the first one. For such an old boat, the interior looks well fitted out. Especially as this boat is only 25 foot long, I really like the simple but rustic layout. Whoever fitted this boat out really thought it out with care. If you are after a compact narrowboat, this one would be attractive to many.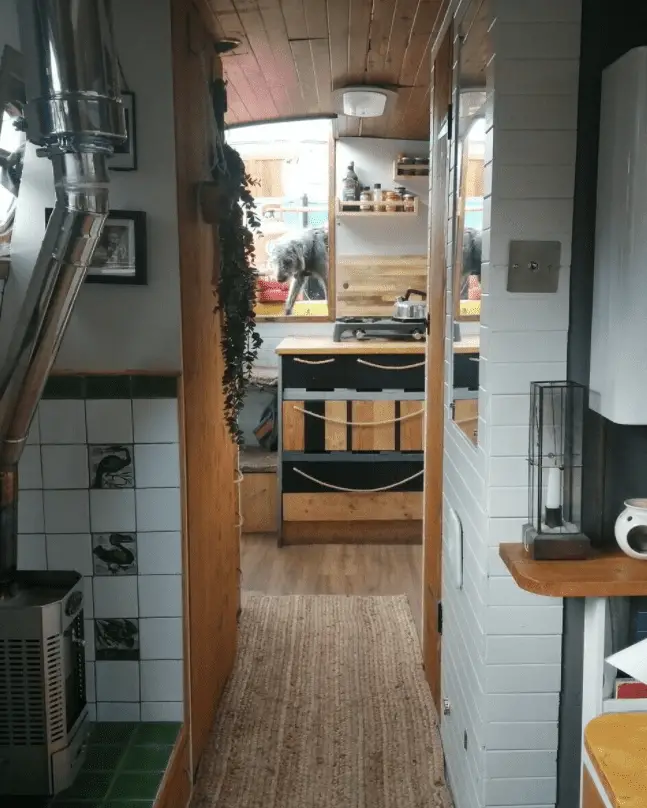 Another Awesome Bathroom
I am so used to looking at these listings and finding a laundry list of dirty and grubby bathrooms, I don't know what is going on today. This bathroom looks even nicer than the one on the first boat. Gleaming white and well fitted out.
Good Information
This listing is one of the better ones you will see on Ebay for narrowboats. The seller has really put an effort into the details, and not much is missed out. This really helps you to make a calculated decision on this boat. All the guesswork is taken out of the equation.
Bad Things About This Listing
Outboard Motor
This is a matter of personal choice, but I don't like having an outboard motor on a narrowboat. I understand why they have done it on such a small boat (to give more room to the kitchen), but I personally wouldn't go for it. Although it doesn't say in the listing, I am assuming that this is a petrol outboard. That would mean that you need to have petrol stored somewhere on the boat. Even if it is a diesel motor, you have to handle and store containers of fuel much more than with a regular setup.
Last Survey
The last survey was in 2016, so you must have a survey before buying this boat. Anything could be lurking underneath the surface, especially as it is a 30-year-old boat.
Lack of Storage
Yes, this is a very compact boat. That means you need to really want this type of boat, as storage is at a premium. Gas lockers and the like are a luxury for a boat like this. If you are a holiday cruiser this might not be so hard to handle, but if you want to live aboard, you need to think carefully about this setup and get as much information from the owner to see if it would work for you.
Price
Don't get me wrong, this is a pretty decent looking boat for this age. However, 18.5k for a 25 foot boat of this vintage is yet another sign of how crazy the narrowboats prices are right now. Maybe they will accept lower offers, but this seems like a pricey boat at the asking price.
You can check out this boat over at Ebay yourself by clicking HERE.
Boat 3: "Violet England" 54ft – 2006 – Traditional Narrow Boat

Good Things About This Listing
Well Looked After Boat
From the pictures, this boat looks to be well looked after and maintained. You can see that the paintwork is clean, the chimney and cowling look almost brand new. This is also evident inside the boat, where there are literally no rough edges on show. This is one of the most immaculate looking boats I have seen on Ebay recently, it's good to see they still come up on the platform 🙂
As seems to be the theme for today, the bathroom is very well tiled and fitted out. Looks almost brand new to me.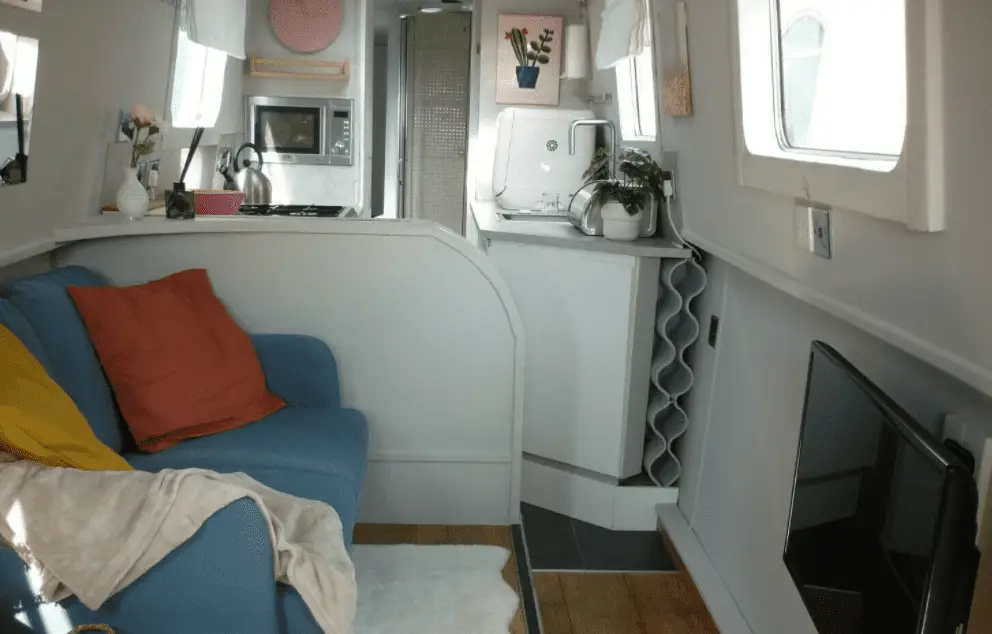 Excellent Layout
Not only does every look spick and span, but the layout of the boat is excellent for a 2006 boat.I really like the way that the saloon and galley look in the pictures, and they seem to blend into each other well. Small touches go a long way in this boat, in my opinion.
Asking for Viewings
Sometimes I feel that many sellers on Ebay actually don't want to encourage viewings, probably to hide some of the rough edges on their boats. So it is good to see that this seller (who is an agent by the way) is openly encouraging viewings before purchase. This is how it should be 🙂
Bad Things About This Listing
Lack of Detail
This listing has quite a bit of text, but most of it is very general and unspecific. We don't know who built it, who fitted it out. The only reason we know anything about the engine is because there is a picture of it. Clearly, this agent has listed the boat in way too many places and can't be bothered to give us any more details. A shame, really.
Price
In the current market, the asking price doesn't seem that bad. But that's only because the prices are crazy right now. 50k still feels like a lot to me, but I imagine a lot of people will snap the agent's hand off for a boat that looks this clean and pristine.
Survey
This boat was last surveyed in 2019, so you should really have another one done before committing to anything here. This is something I see way too many people skip out on and regret later!
You can check out this boat over at Ebay yourself by clicking HERE.