As long time readers will probably know, I love nothing more than settling down to watch some narrowboat Vlogs, and over the years I have grown to love several of these 'narrowboat influencers' over on YouTube. Unfortunately, recently a number of my favourites have decided to either quit vlogging altogether or move onto topics outside of my first love narrowboating. This article will conclude my trifecta of three that have come to my attention recently! Today we talk about what happened to Boating Beyond 🙁
Who are Boating Beyond?
Boating Beyond (the YouTube channel) was started by Ali and Matt, a lovely couple that had decided to live aboard a narrowboat and provide us all with an insight into this through YouTube video vlogs.
How Did Boating Beyond get Popular on YouTube?
Boating Beyond quickly became popular, mostly due to the rapport Ali and Matt had with each other and the fact they gave us a realistic insight into what narrowboat life could be like. Add to this that they were a relatively young couple (and there weren't many in the YouTube narrowboat world when they started), and this was a recipe for success.
It really was a joy watching Ali and Matt's approach to narrowboating, as young people learning the ropes we watched them go from noob boaters to relative pros. And the fun came for us viewers, watching all the mishaps in between!
What Happened to Boating Beyond?
Everything seemed to be going along swimmingly with Boating Beyond until one day Matt and Ali announced out of the blue that they were selling their narrowboat Poppy and stopping vlogging on YouTube. After this video, the Boating Beyond and all related social media accounts went silent, to the great distress of a lot of their avid fans (they have around 10000 YouTube subscribers).
I think the thing that made it hard for many fans (including myself) is the fact that this announcement happened so quickly and all activity ceased. Many viewers didn't feel closure and struggled to deal with such a sudden change. It didn't help that their final vlog was just a normal one of them cruising and going on a boat lift. Nothing was mentioned about why they were quitting, leading me to believe it was a hasty decision.
Although for me I have nothing to complain about. As I have said with all the vloggers that have recently quit, they don't owe us anything as viewers. We were lucky to watch Matt and Ali for as long as we did, and I wish them all the best on their next adventure. People simply have to do whatever makes them happy, not what pleases us as viewers.
What Made Boating Beyond quit YouTube?
The official line from Matt and Ali was simply that they had lived on a narrowboat for two years or so and were looking to move on. A new challenge and all that!
However, I feel that there may have been some other factors behind the end of their YouTube presence. Leading up to their last video in September 2021, there were several incidents that happened to Matt and Ali whilst living on their narrowboat Poppy.
I think the most significant one was when they were attacked in the night by a small group of yobs on the towpath. This is more than just annoying, it can be terrifying to experience and can really make some people rethink living on the canals.
Why not just live in a marina then, I hear you ask! Well, they also had a video recently talking about their bad experiences with using a marina when getting some maintenance done on their boat. Maybe this would have put them off living in a marina. I also get the impression that they enjoyed the cruising aspect of boating more than staying in one place, so they probably wouldn't feel marina life is for them.
Matt and Alli also put videos on their Boating Beyond channel, talking about a confrontation they had with a speeding boater. I am sure all of these recent negative events didn't help as Matt and Ali were deciding on their futures on the cut, although we don't really know if they played a part. I am speculating at this point 🙂
Similar Channels to Boating Beyond
Luckily for all you narrowboat vlog lovers, a new channel started up in July 2021 that has turned out to be a great replacement for Boating Beyond. Named Boat Time, I find their vlogs along a similar lines to what I enjoyed with Boating Beyond. They are also a young couple, although of course they are totally different characters in their own right. But that formula of a young couple deciding to live aboard a narrowboat and letting us watch as they learn the ropes remains the same 🙂 So if you liked Boating Beyond, I highly recommend you try watching Amy and Wes on Boat Time….
Were then any Controversies around Boating Beyond?
As someone who is around the narrowboat community, I did hear some rumblings of discontent on the internet around Boating Beyond, which might have also had an impact on why they quit narrowboat vlogging.
The main controversy around Boating Beyond was around their first boat, which was an aging Springer narrowboat called AWOL. In August 2020, they posted some videos around getting their Springer boat surveyed and blacked. In the process, they discovered several holes in the hull of their narrowboat that seemed to be pretty bad and very costly to repair.
I wouldn't say they e-begged their followers or anything, simply reminded people that they can support them at this hard time through Patreon or a Paypal donation.
Then soon after they posted this video, they posted another saying they were buying a new boat called Poppy, a much more modern and expensive boat than their old Springer boat ever was.
From the outside it would appear that Boating Beyond's followers' donations had contributed to a large portion of this new narrowboat's asking price, although only Ali and Matt know the full details here. I am sure they got some money back from their broken Springer boat and they might even have some savings we didn't know about.
But, for those who didn't like this move, it was made worse around a year later when they decided to quit narrowboating and sold their boat for a handsome £49,950 (minus agent fees, of course). For these people, they would point to the fact that Boating Beyond have profited from the generosity of their followers by selling a boat that was largely paid for by donations. Again, only Ali and Matt know how true this is!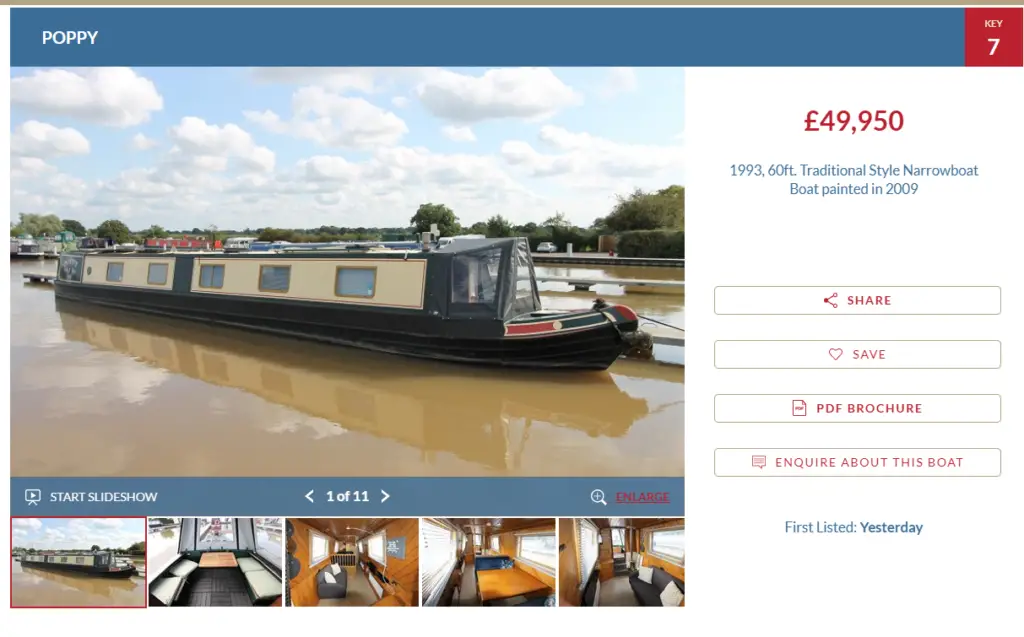 I would like to finish by saying that for me personally, I have no problem with this. They didn't force their followers to donate and when someone donates, they shouldn't expect anything back in return. They were a couple down on their luck and if their followers want to help out, that's up to them.
And it's not like they got this new boat and sold it straight away after a few months. They were living in Poppy for a full year and, as I stated above, they had some genuine reasons why they may have wanted to leave the narrowboat life.
I wish Ali and Matt all the best for their future and if you still want to connect with them, they are still active on their Instagram account (via messaging).