Foxes Afloat were one of the first YouTube vlog channels I watched around narrowboating. The rapport Shaun and Colin have together made hearing about their narrowboat adventures so much more fun, and Colin's narrowboat history lessons were a joy to listen to! But something has changed with Foxes Afloat, and I wanted to update my readers about these changes below. Of course, the best thing to do is to contact Foxes Afloat yourself, but I am simply putting everything in one place for easy reading 🙂
Who are Foxes Afloat?
Foxes Afloat is a two-man team of Colin and Shaun who decided to sell up their land-based home and buy a narrowboat to live on and cruise the British Canal Network. Thankfully, they decided to set up a YouTube channel to take us along on this journey, which could be anything from watching their boat being built to cruising the cut and getting short history lessons about it!
In fact, Foxes Afloat has become (alongside Cruising the Cut) one of the most successful narrowboat based YouTube channels around. Foxes Afloat has 139000 YouTube subscribers at the time of writing and often gets thousands of views on each video they make. They became household names when it came to Narrowboat based entertainment 🙂
What Happened to Foxes Afloat?
For many successful Youtubers, they would simply keep going when on such a successful path, but not Foxes Afloat.
In October 2021 Foxes Afloat put out a video saying that their infamous narrowboat Silver Fox was going up for sale. For many people, they thought the game was up and Foxes Afloat would disappear into the sunset (like many narrowboat Youtubers recently!). In this video, they talked about the idea of using the proceeds of selling Silver Fox to buy another narrowboat. They then embarked on some canal and river cruising journeys across Scotland on a series of hire boats.
The upshot of all of this is Colin and Shaun fell in love with Scotland and ended up moving into a land-based house up there and postponing the idea of buying a new narrowboat. Well, at first they were still saying through their social channels they had a new narrowboat coming, but in a recent live stream celebrating their 200th Vlog they seemed to confirm that there was no new boat coming.
However, it's hardly surprising to me as they both seem so settled up in their lovely house in the highlands of Scotland. I think they are going to be there for a while, just look at the beautiful scenery they have on a daily basis (posted on their Facebook).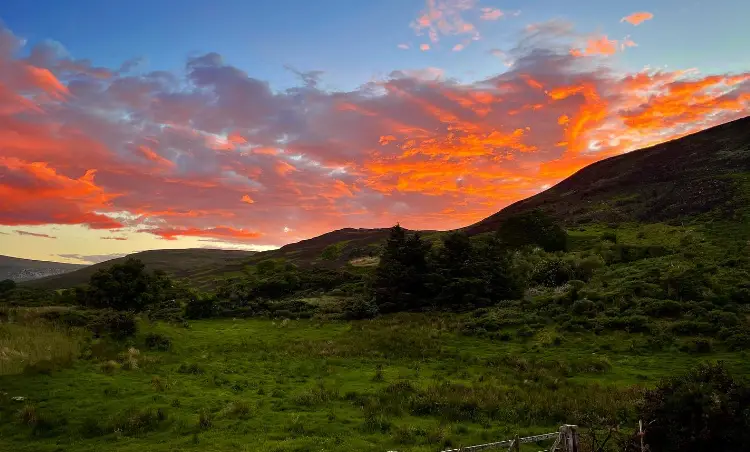 What are Foxes Afloat doing now?
Foxes Afloat are currently living in North Scotland and are setting up a homestead/ small holding on their newfound land (an acre of new found land to be precise).
For example, you can see from their Twitter that they recently (at the time of writing) got some bee suits ready for getting bees.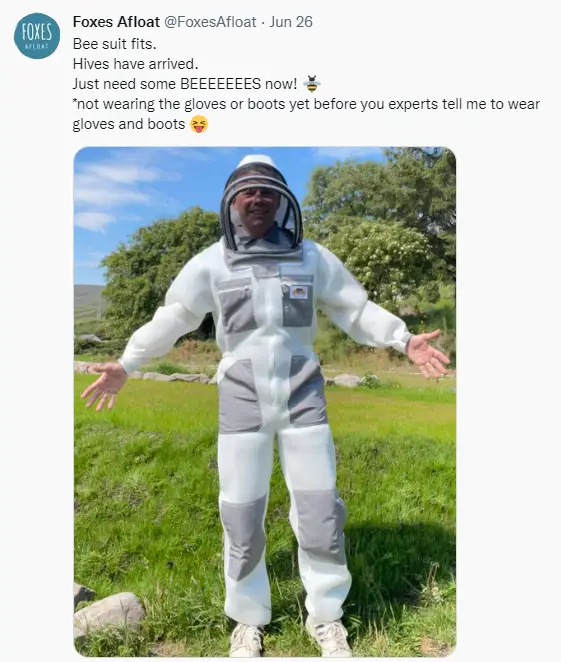 Add to this the chickens they recently added and you can see they are really getting going with this small holding/ homestead.
Colin has also become an ambassador for the charity MANUP, which aims to change people's misconceptions about mental health issues linked to men. As long time viewers of Foxes Afloat will know, Colin has suffered with mental health issues over the years so it is great to see him giving back to the community that has probably supported him.
The Foxes Afloat YouTube channel continues, it is just that for the foreseeable future it will be about everything Scotland, setting up a small holding and mental health. No more narrowboat content on the horizon, although they always say 'never say never'.
You should try watching their new content, as they still have the same fun way to present whatever they do in life! Never a dull moment when watching Colin and Shaun, whatever they do!
Who Bought Narrowboat Silver Fox from Foxes Afloat?
The new owners of Foxes Afloat's narrowboat Silver Fox are Derek and Pauline, a lovely elderly couple from the UK, who lived in Chicago since the year 2000 before moving back to the UK to buy and live on Silver Fox. They have a Twitter account now if you want to follow along with their journey.
They are well prepared, it seems, as they came back to the UK to do some helmsman training in March 2022 before moving onto Silver Fox around Easter 2022. From their Twitter, they already seem to be having a great time on Silver Fox and putting in the miles! Great seeing another couple enjoying the canals as much as Shaun and Colin did 🙂 All the best Pauline and Derek!
How Much do Foxes Afloat Earn from their YouTube Channel?
Trust me, a lot of new narrowboating YouTube channels have popped up since Foxes Afloat started getting popular after their 2018 debut on the platform. I thank Foxes Afloat for showing others how successful a narrowboat based YouTube channel can be. The more the merrier, I say! And naturally, many prospective narrowboat Youtubers want to have an idea what success looks like in terms of 'How much money can I earn?'
So how much do Foxes Afloat make from their YouTube channel? It is almost impossible to get an accurate idea as to how much Foxes Afloat earn from YouTube, and I don't think they will disclose this information any time soon (and rightly so!). Using SocialBlade we can see that they are probably earning somewhere around £500-1000 a month from Youtube ad revenue.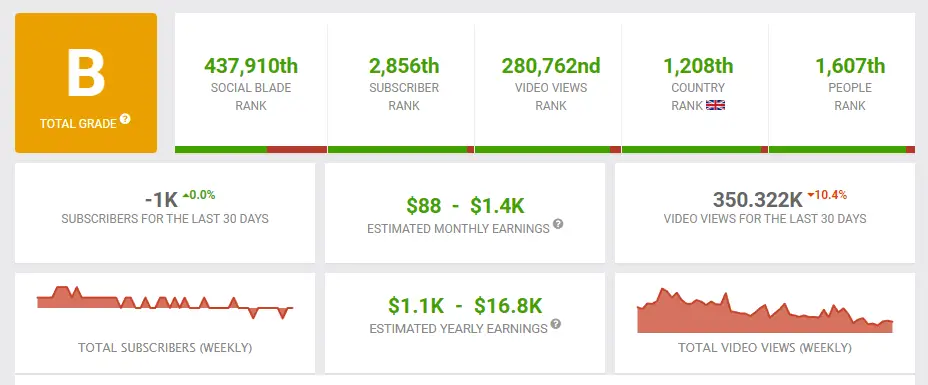 Foxes Afloat also have a Patreon account (a platform for content creators to get donations from their followers), although they don't tell us how many Patreon subscribers they have. So all we can really do is guess 🙂
If you look at another popular narrowboat channel Holly- The Cafe Boat, they have 137 patrons at the time of writing. Although I would say they are popular with their viewers, they still only have just over 28000 subscribers (probably because they have only been going around half the time Foxes Afloat have). If you look at the amount of views on each of their videos though, they are not far off on that metric and the frequency of videos is similar on both channels.
With some 'back of the napkin' maths, if Foxes Afloat also had 137 patrons paying the middle tier of £4 they would be earning £548 a month. This is probably still a ways away from being accurate, but it at least gives you an idea as to what they could be earning from Patron.
So altogether Foxes Afloat probably earn around £1000-1500 a month from their YouTube channel. More than enough to live up in the Scottish Highlands, I imagine. And they probably used the proceeds from selling Silver Fox to buy their one acre patch of land.
All the Best!
I myself wish Colin and Shaun of Foxes Afloat all the best in their future endeavours, whatever they may be. Some people seem to think they should keep doing narrowboating vlogs at the cost of their personal happiness, which is crazy! But Foxes Afloat owes us nothing and I am just pleased we can still watch them on YouTube 🙂 Enjoy the Scottish Highlands lads!